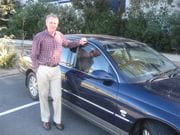 As a longstanding National Seniors member, I thought it important to write and let you know of our satisfaction with the recent job done by Mick Pelchen of Car Search in Melbourne.
Over 3 weeks Mick searched diligently for a car that best fitted the specifications we had given Mick. As it turned out this was no easy task but, at the end of the day, we have a car that more than meets our expectations.
A nice ending was our experience with the insurer, again through National Seniors. The price that we paid for our car was so much less than the price expected to be paid for the make and model that the alarm bells went off at Allianz! Many questions later it was obvious that we had a bargain! Thank you Car Search!