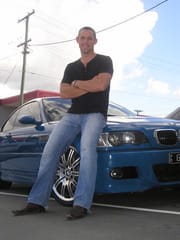 My requirements were pretty simple I wanted to buy my dream car (which was an M3) in as new condition for the best price possible. Within 1 week Simon had used his relationship with wholesalers all over Australia and had found me a car. The following week I flew to Melbourne and made contact with the Car search brokers office. They took me out to the show room where the car was being held. I test drove the car, like a little boy in a candy store. I had a chat with Simon over a coffee and flew back to Brisbane the next day…
3 Days later the car was in Brisbane beautifully detailed, Queensland registered, financed at a fantastic rate, thanks to Simon, and in my hands.
This is an industry where it is a known fact that people frequently get ripped off because of bad choices or lack of information. At no stage did I feel that this was going to happen. The personalised service I received was awesome.
I will never walk the Moorooka magic mile again!
Cheers Guys