There is something appealing about a family car that offers plenty of passenger and cargo space while also giving you the option to head off the bitumen when your heart desires. Car buyers throughout Australia are increasingly choosing SUVs as the everyday family car. SUV sales in Australia now account for over 35% of new car sales.
Even if you do most of your driving in one of the major cities such as Melbourne, Sydney or Brisbane, the spaciousness and safety advantages offered by an SUV may still appeal to you. SUVs are a popular choice for the space and comfort they provide for city driving while still offering the opportunity to travel through more rugged conditions when needed. Plus, let's be honest, some SUVs are very nice looking cars.
When you consider that vehicles in Australia can face a huge range of driving conditions every year and the needs and budgets of drivers can vary greatly, it is understandable that there are quite a few options in the SUV market.
If you are considering an SUV for yourself or your family but are not sure where to start, Car Search Brokers have written a short guide to ten popular family SUVs which are currently on the market. The family SUVs are listed in alphabetical order, since this list is not meant to be our actual ranking of the cars, but rather a brief guide to ten popular models. Your own personal preferences, budget and requirements will all be factors in determining which make and model is best for you.
Audi Q7
Photo Credit: M 93
The Audi Q7 is a luxury SUV and is on the pricier end for this category of cars. In defense of its price tag though, it is a truly capable sport utility vehicle that matches performance with elegant aesthetics. The fuel economy for the is also quite reasonable for a vehicle of its size. There are several engine sizes to choose from, such as the standard diesel or petrol as well as newer environmentally friendly options. This one is a good fit for eco-conscious families who appreciate the performance and prestige of an Audi and the added luxuries not available on all cars.
BMW X5
Photo Credit: M 93
The BMW X5 is one of the best selling family SUV cars in Australia. BMW's have a reputation for being one of the most dependable auto-manufacturers in the world. Three different engine types are available, including a diesel engine that can go from 0 to 100 km/h in 6.9 seconds. The X5 ticks a lot of boxes for safety, comfort and sophistication but does not offer the cargo space of other SUVs on the market. Again, this is among the higher priced SUVs but it comes with the handling, quality and features that make BMW a highly reputable brand.
Ford Territory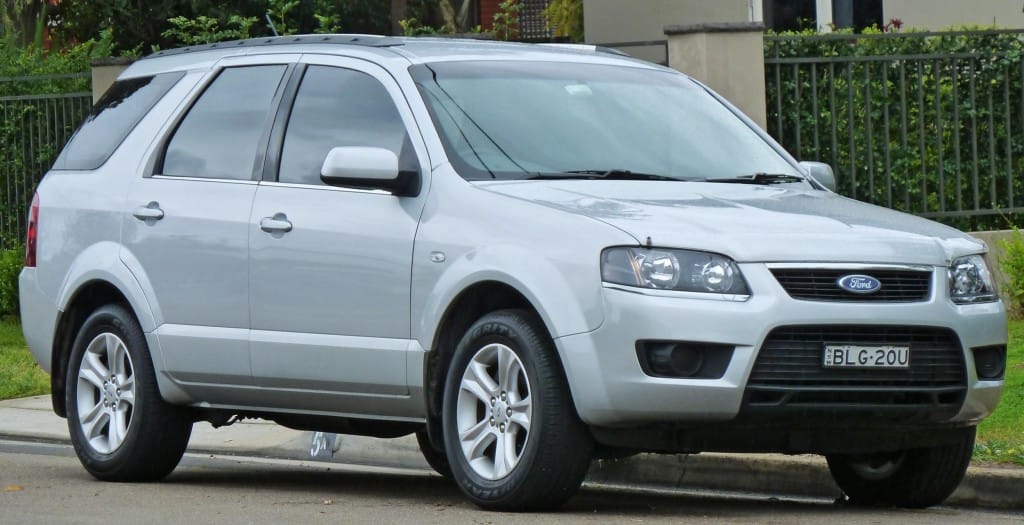 (Public Domain Image – No Attribution Required)
The Ford Territory falls into a much more comfortable price range for the average Australian family. Made by the highly reliable carmaker Ford, and designed specifically for our continent, the Territory offers a suburban driving experience with the option to take it off road if required. This SUV offers many additional upgrades, allowing you to customise the vehicle to best suit your family's purposes. The fuel economy is a touch on the high side for this category of cars. However, the Territory has been a popular model in Australia for quite a few years and Ford have continued to refine the features offered to suit the tastes and needs of Australian buyers.
Honda Odyssey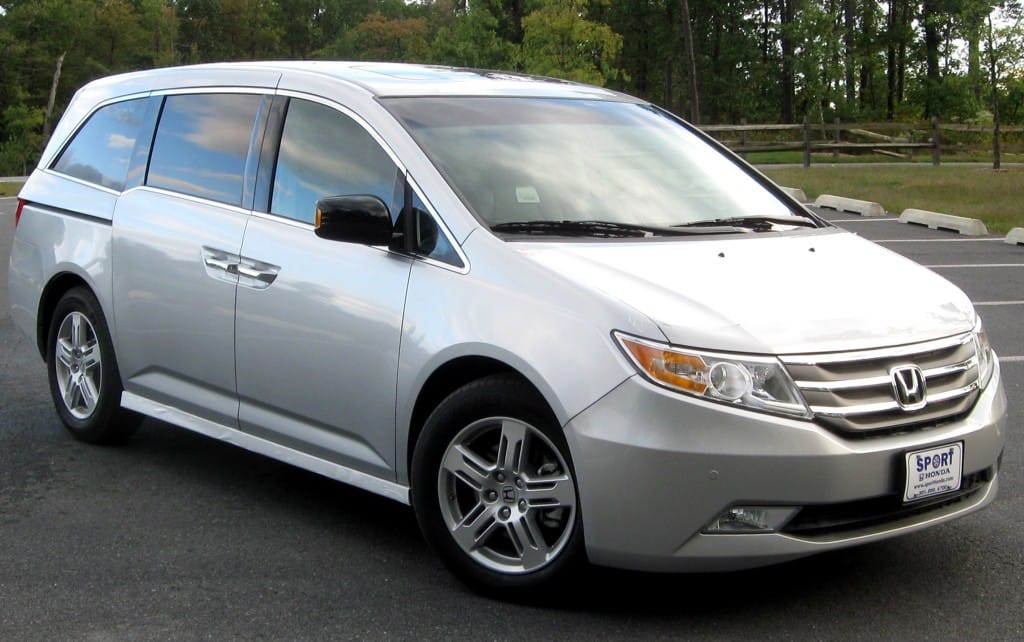 (Public Domain Image – No Attribution Required)
The newly remodelled Honda Odyssey may look to some to be unsettlingly similar to a van. However, the modern interior is comfortable and spacious, even with eight seats that all recline. Looks aside, the Odyssey is a highly capable family SUV that has proven affordable for plenty of families. The Odyssey is very generous in terms of passenger and cargo space with the tradeoff being that the vehicle itself is bigger overall compared to competing models. Even with its large size though, the Odyssey maintains an impressive fuel efficiency and if space is something that appeals to you this is well worth a look.
Isuzu MU-X
The Isuzu MU-X manual is a five-speed family SUV and is one of the most genuinely capable all-terrain vehicles on the market. This rugged car in disguise may look innocent in a supermarket parking lot but is like a fish in water when it comes to the great outdoors. The MU-X has an enormous 3000kg towing capacity making it ideal if you need a sturdy vehicle to tow a boat or caravan. The Isuzu MU-X is available with an automatic or manual transmission. Being built to handle rugged terrains so well does mean that on sealed roads the MU-X is not as smooth as others but if you like off roading an MU-X scores very well in the tough category.
Hyundai Santa Fe
Photo Credit: M 93
The Hyundai Santa Fe has a thoroughly modern design with a petrol or turbo diesel engine available depending on your needs. The Santa Fe is capable of towing up to 2500kg and has a six-speed transmission available as automatic or manual. Like the Isuzu MU-X, the Santa Fe ranks as one of the better performing SUVs for off road use but again the tradeoff being it doesn't handle as well in city driving as some of the European models in this category. However, the Hyundai Santa Fe provides a respectable combination of slick design, roomy interior and off road performance that appeals to many Australian buyers.
Kia Carnival
Photo Credit: Chu
Being highly affordable for an SUV with low costs of operation makes the Kia Carnival a popular choice with Australian families. Whether the Carnival fits the SUV or family minivan category is open to debate but it is probably more in demand as a people mover than for sport or performance. In saying that, the Carnival is reliable and able to handle all sorts of terrain without difficulty. The vehicle is spacious with eight seats and it is easy to drive which makes it worth considering if you have a larger family or you regularly need the extra seats.
Nissan Dualis
The Nissan Dualis (more recently replaced by the Nissan Qashqai) boasts a high level of fuel efficiency for the power it provides. This is largely due to its continuously variable transmission (CVT). The interior of this family SUV is spacious and offers plenty of room for storage, including a chilled glove box. The Dualis is easy to handle and requires minimal maintenance. The new Qashqai is only a 5 seater so if you like new Nissans and want the extra seats then you may want to consider an X-Trail as it will now be the 7 seater in the Nissan range.
Toyota Kluger
(Public Domain Image – No Attribution Required)
The newest Toyota Kluger is now an American built SUV and although at a glance it looks to be on the pricier side, it does offer good value when you consider all its features. The Toyota Kluger has petrol V6 engine and is capable of towing weighty trailers. Although some people consider it to not be the most visually appealing car on the market, the sporty SUV is easy to drive and highly dependable, even in the most rugged terrains. The Kluger comes standard with a six-speed automatic transmission. The Kluger is one of thirstier SUVs on the market which is somewhat explained by the weight of the vehicle itself coming in at over 2 tonnes. The Kluger is very capable of off road duties but also provides plenty of room and comfort for city driving which makes it a popular option for family use around town.
So Which is Best?
Ultimately, the best family SUV for you will be the one that suits your particular needs. The ten cars included for this list have been selected because they are some of the most popular SUVs on the market.
To find out more about which model of SUV would suit your needs have a chat with the friendly team at Car Search Brokers. Our team will be happy to provide all the information you need to help you narrow your choice but we'll always leave the final decision up to you. We can then help you source the ideal new or used vehicle for your needs, budget and timeframe.