School's back and so are the chaotic school runs. Whether you are dropping off your small population or you have their school friends in tow, having a car that fits them all (plus their enormous school bags) is important, nay! A necessity for your mental wellbeing. 
The term "people mover" may seem a little excessive, but in reality, it may suit your situation quite well. You are, in fact, transporting a large number of individuals over a distance. And although in the past, the range of people mover vehicles available for purchase hasn't been that appealing on the eye, in 2020 things are looking up. 
Although your first choice may be the simplistic and sophisticated SUV, you will soon find that in comparison to a people mover, their space (once you add your passengers and their luggage) is almost non-existent. Let's jump in, shall we? The team at Car Search Brokers have narrowed down our top 5 people movers of 2020. 
Toyota Granvia
The Granvia showcases Toyota's latest achievement in combining technology, interior comfort and practicality with class and luxury. Available in six or eight quite luxurious seats, each is accessible from the central aisle, the Granvia's spacious interior cabin allows for a quick entrance or exit. Designed for a modern family, each seat features a charging station, pocket storage for devices and adjustable LED reading lamps to entertain your passengers on their way to and from school. 
Apart from its stylish looks and comfortable interior, the Toyota Granvia is also packed full of the latest safety tech. With Toyota Safety Sense (TSS), the Granvia aims to recognise specific hazards and help avoid certain collisions. If you are worried about the size of this people mover and wondering how the heck you are going to park the thing, don't worry. The Granvia also comes with rear parking sensors, a digital rear-view mirror and on-screen guides to help. 
The Toyota Granvia is a premium people mover that has thought of everything. 
LDV G10 People Mover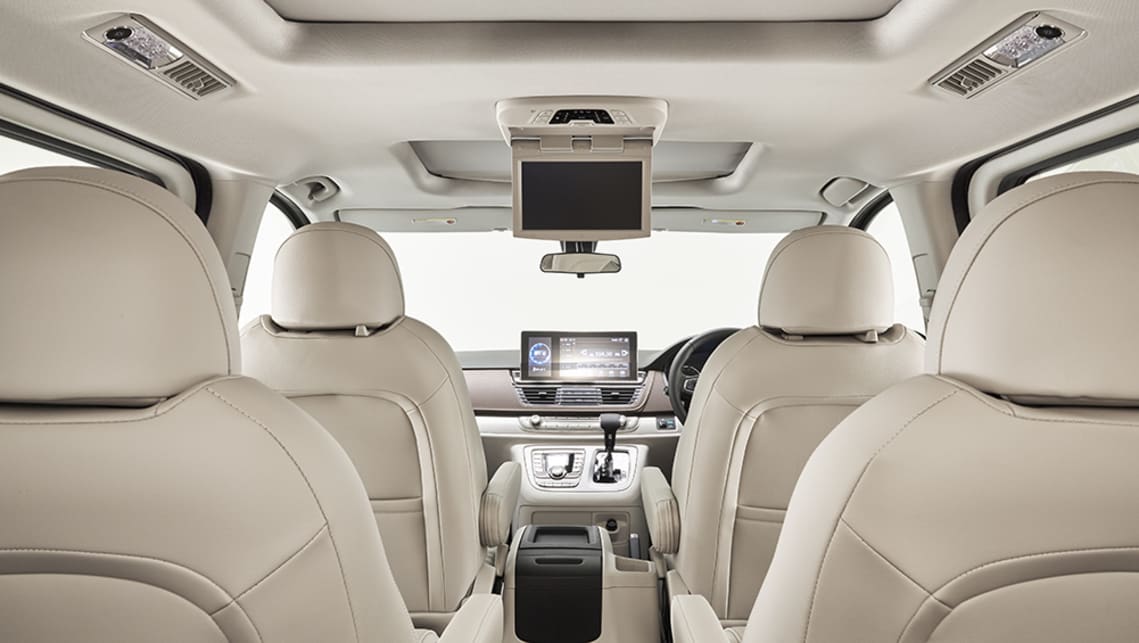 Although many will have a hidden prejudice toward the LDV brand, the G10 is designed to transport all of its passengers in comfort. With quite the reputation globally for its world-class vehicles, the LDV G10 is a value for money people mover. Similar to the Granvia, the G10 is purpose-built to transport seven to nine people (including the driver), with plenty of room for everyone and everything. When more space is required, the rows of rear seats can be moved forward and even folded, making the boot quite large. Cruise control, Bluetooth, rear camera, park assist, and safety features are also included as standard too. 
Whether you are taking the kids to school, or dropping them and their friends or a weekend of soccer, the LDV G10 is practical by design and comfortable by nature.
VW Multivan
If you are looking for a people mover that prides itself on versatility, quality and perfection, the VW Multivan might be exactly what you are looking for. Boasting its smart and practical ways, the Multivan comes complete with everything Volkswagen. Including the first-class entertainment system, safety systems such as adaptive cruise, emergency braking, blind-spot warnings, parking and rearview cameras, and more. 
On top of this, you get a lot of storage, legroom and unparalleled seat flexibility. If the kids/passengers want to face each other in the back, the individual seats in the second row can be easily rotated. If you have younger passengers, the Multivan's individual captain's chairs with armrests can be transformed into a child's booster seat. Ultra configurable, it's ready for whatever life throws at it. Additionally, the Multivan is the most off-road vehicle available in its class. Varients that come with Volkswagen's 4MOTION all-wheel drive can take the school drop off to the next level. 
A stand out on the road, the Volkswagen Multivan might well be your perfect drop-off companion.
Honda Odyssey
Designed to make memories together, the Odyssey is a people mover with space and comfort to keep all passengers happy. Whether you need all 8 seats or want the variant with 2 captains chairs featuring movie cinema-style recliners, your passengers will be riding like royalty. The Odyssey interior can also feature a tri-zone climate control system, conversational mirror, sunroof and sunshades for additional comfort. 
For the driver, whether you are on the school run or not, there is no missing out. The Odyssey boasts car-like handling and providing the ultimate connection to the outside world with sat-nav, an infotainment system, easy-to-read digital driving display and more. Complete with a 5-star ANCAP rating, safety doesn't go astray either. Honda Sensing supports the driver with forward-collision warnings, collision mitigation, lane departure warnings and more. 
As Honda says, we can see the Odyssey bringing joy to your people and others.
Mercedes-Benz V-Class
Following the trend, the V-Class is prepared for anything — especially school trips. With space to not only accommodate your active children but their friends and school gear too, this people mover is made for life. Taking things up a notch in the comfort category, the V-Class is available with climate-controlled seating for all occupants for the ultimate comfort on both hot and cold days. To help with the loading and unloading of luggage, a separately opening rear window makes for added convenience. 
In True Mercedes style, there is not only a sense of space but a true sense of luxury with high-grade surfaces and quality craftsmanship throughout the vehicle. The Mercedes-Benz Intelligent Drive safety technology helps relieve the burden, particularly in stressful situations, meaning driving through busy school zones is safer for everyone in and outside of the car. 
The Mercedes-Benz V-Class is a people mover designed to get you there comfortably and stylishly as ever. 
People movers are a great option for those looking for a car that has it all. With space and comfort for any occasion, it may be the perfect car for your family. If you need help finding the right car, talk to the team at Car Search Brokers today. We take the hassle out of buying cars.