Vehicles are crucial to people in a variety of jobs in Australia, but arguably none more so than tradespeople. As a tradie, you are likely to have a busy schedule which requires an adequate vehicle to get you between jobs, carry the tools and equipment you need, and deliver high performance day in and day out. No ordinary vehicle can meet the specific requirements needed for tradies either, as specific fitouts and storage requirements are often needed.
In this post, we look into how you can get the best deal on a vehicle that satisfies your occupation needs as a tradie. This includes everything from sourcing and purchasing the right vehicle for your needs, to the fitout and insurance protection options available.
Sourcing Your Vehicle
Your vehicle isn't just a means of transport between your clients, it's also where you're likely to store valuable tools and assets, important business records, and other equipment that helps you complete your work. Depending on your trade, your requirements for a vehicle are likely to be very specific and non-negotiable.
A car broker can assist you throughout the entire purchase process by ensuring a vehicle that suits your needs is sourced at the best possible price. If you're not entirely sure of the type of vehicle you need, you can talk with your broker about your requirements and they can help you to determine the best vehicle for your unique circumstances. Car brokers have access to dealer networks and can negotiate a price for you while you focus on your business and day to day work. Suitable options are presented to you for your consideration. If you are thinking of buying a used vehicle, the car broker can also assist with the mechanical inspections and test drives on your behalf.
The Fitout
Each tradesperson has very different requirements for a vehicle based on the type of work they perform.
If you have used a car broker to source your vehicle, they can often assist with the fitout of the vehicle too. At Car Search Brokers, we understand what it takes to secure a vehicle that fits the job. We are committed to providing you with options that meet the demands of the work you need to do. We'll assist with a detailed brief, sourcing quotes, purchase details, payment – and organising the vehicle for fitout if required.
Securing Finance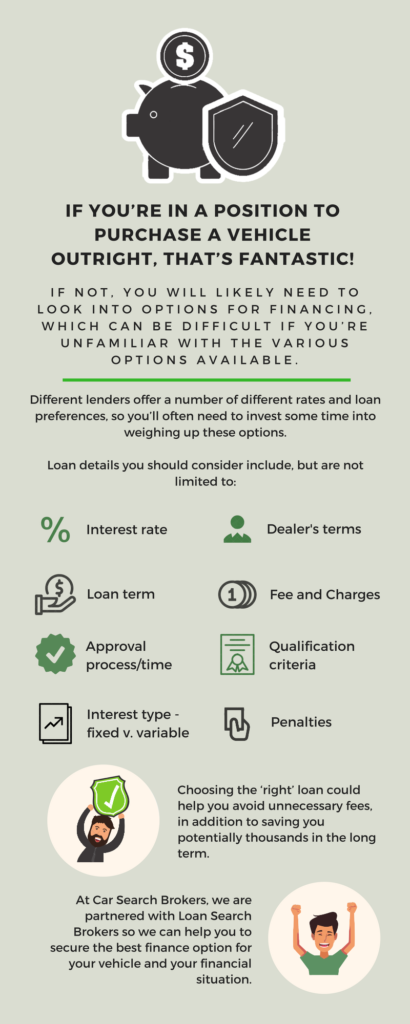 Protecting Your Assets
Your commercial vehicle contains all of the tools and assets you require to complete your job, which is why it's so important to ensure you are protected with a full-coverage insurance policy. It is recommended that you consider an insurance provider who is familiar with trade vehicle policies and understands the importance of coverage on your tools and assets.
Car Search Brokers are also partnered with Trade Risk, one of Australia's leading tradesmen insurance firms who have a range of trade vehicle-specific insurance options to suit the unique needs of any tradie.
Saving Time and Money
With such a range of factors to consider, a serious amount of time and energy needs to be invested to ensure you're getting a good deal on the right trade vehicle for your needs. Going to a car broker, such as Car Search Brokers, can be of great benefit as we walk with you every step of the way.
We have more than 30 years of experience sourcing vehicles specifically for tradies. Take advantage of our established relationships with business partners and dealer networks throughout Australia. Our team can source the best deal on your next trade vehicle or even fleet requirements if needed. For more information or to get started with sourcing your trade vehicle, call Car Search Brokers today on 1300 650 890.